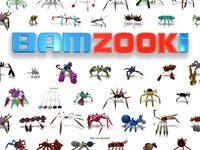 Bamzooki (styled as BAMZOOKi) was a mixed Reality television gameshow on the BBC's CBBC which features a toolkit developed by Gameware Development.
The first series aired in March 2004 on CBBC. The show was presented by Jake Humphrey. It has occasionally featured specials with Sophie McDonnell. In July 2008, it was announced on CBBC on BBC One that Bamzooki was returning. A new thirteen part series began in November 2009 and was now hosted by Barney Harwood and Gemma Hunt.
A Zook is an autonomous creature designed by users and contestants in the gameshow. Created using 3D primitives, Zooks move autonomously based on IK points that the designer assigns to them.
Using nature as inspiration, contestants design Zooks to compete against other Zooks in a variety of competitions. The tool kit for designing Zooks is offered for download on the show's website. Also, more recently, two new Zook-Kit features have been released that allow users to simulate the TV contests and then replay their Zooks' performances from multiple angles.
Gameware's Creature Labs team uses artificial life programming techniques to provide the Zooks' autonomous movement and behaviour and integrates this with the BBC's virtual studio system to enable real-time visualisations in a studio setting.